Bournemouth University, The Executive Business Centre
September 26, 2015 – September 27, 2015
The BFX Conference was setup in 2014 to run alongside the BFX Festival hosted by the NCCA (The National Centre for Computer Animation) at Bournemouth University.
Since its establishment in 1989 the NCCA has conducted research of international significance and has pioneered both undergraduate and postgraduate courses at the University's Media School in computer visualisation and animation and digital effects. In 2011 BU was awarded a Queen's Anniversary Prize for the NCCA's 'World Class' teaching.

Both the festival and conference draw attention to visual effects and animated techniques present in moving digital images and their wider applications.
ANALOGUE TO POST-DIGITAL

Contemporary still and moving images and their related practices sit in the interstices of the analogue and digital. This year the 

BFX

conference

invites participants to consider the trajectories of these movements as we engage in a discourse of the 'post-digital' in still and moving image.
Embedded within these fields are a range of themes such as: memory and the archive, media archeology, hybridity, intermedia practices, folksonomies and virtual curatorship, the network, new pedagogies and education design.
The conference welcomes multi-disciplinary approaches that consider the continuities and breaks in technologies and practices, as well as the range of possibilities that may be inspired by thinking about the post-digital.
This year's BFX conference will focus upon both academic discourse and artistic practice.
Announcements
The BFX Conference and Analogue to Post-Digital site is now archived.

This site is no longer updated.
Posted: 2020-07-17

Link for Submission Process Updated

We have had a problem with our link for Submissions on the Call for Papers Page - we apologise this has been updated.

Alternatively you can also find the same link to begin the submission process at the end of the page.

Posted: 2015-06-27

New KeyNote Speaker Confirmed

We are pleased to announce that to add to our list of prestigious speakers we will be hosting Prof. Wolfgang Ernst.

Prof. Wolfgang Ernst is Professor for Media Theory at the Institut für Musik und Medienwissenschaft at Humboldt University, Berlin, where he co-runs the Media Archaeological Fundus. He is also author of Digital Memory and the Archive (2012), and a compilation of other literature including "Media Archaeography: Method and Machine versus History and Narrative of Media", and From Media History to Zeitkritik (2013).

Posted: 2015-06-01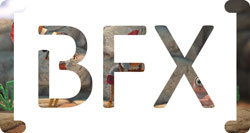 Conference Information
This work is licensed under a
Creative Commons Attribution 3.0 License
.