Bournemouth University
September 22, 2014 – September 23, 2014
The BFX Conference was setup in 2014 to run alongside the BFX Festival hosted by the NCCA (The National Centre for Computer Animation) at Bournemouth University.
Since its establishment in 1989 the NCCA has conducted research of international significance and has pioneered both undergraduate and postgraduate courses at the University's Media School in computer visualisation and animation and digital effects. In 2011 BU was awarded a Queen's Anniversary Prize for the NCCA's 'World Class' teaching.

Both the festival and conference draw attention to visual effects and animated techniques present in moving digital images and their wider applications.
Digital Convergences 2014
This conference intends to present and analyse the convergences that are occurring across and within the genres of moving image, in part resulting from the impact of digital technologies.
Through an interdisciplinary approach, the BFX conference invites authors to examine various theoretical positionings with a view to realign the discussion in the light of current technologies. The conference seeks to revisit the arguments that position film, animation and art as aesthetically, structurally and intellectually different.
CONFERENCE REGISTRATION WILL OPEN ON 04/04/2014

Announcements
The BFX Conference and Analogue to Post-Digital site is now archived.

This site is no longer updated.
Posted: 2020-07-17

Link for Submission Process Updated

We have had a problem with our link for Submissions on the Call for Papers Page - we apologise this has been updated.

Alternatively you can also find the same link to begin the submission process at the end of the page.

Posted: 2015-06-27

PARKING RESTRICTIONS

Due to ongoing building work on Campus - there will be limited parking available. If you require parking you should kindly contact the BFX team to make suitable arrangements.
Posted: 2014-09-11
More...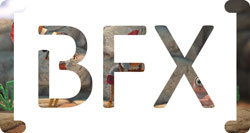 Conference Information
This work is licensed under a
Creative Commons Attribution 3.0 License
.